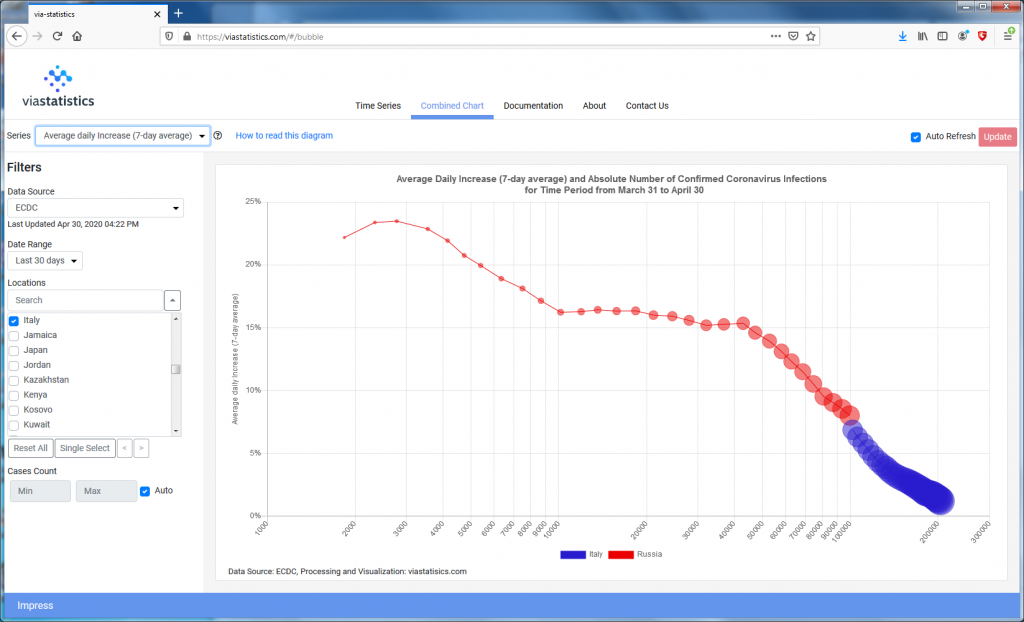 viastatistics is a non-commercial project of VIA Software GmbH & Co KG, which aims to present relevant information on the spread of the coronavirus pandemic.
For the time being we focus on some variants of the following key figures:
Average Daily Increase
n/m Growth Indicator
For the Average Daily Increase we consider an average of 3 days, 5 days or 7 days. See The Calculation of the Daily Average Increase for a brief explanation of how these figures are calculated.
As we explain in Which Key figure for Which Purpose?, the average daily increase and the closely related doubling time are valuable indicators at a comparatively early stage of the pandemic. At a later stage, however, it is more useful to look at the course of the absolute number of new infections.
In this context and with respect to the comparability of the dynamic of the spread of the coronavirus pandemic in different regions or countries we have introduced another key figure, which is based on the daily absolute number of new infections instead on the total number of confirmed infections after several weeks or months. This key figure is called n/m Growth Indicator or simply n/m Indicator where n and m are integers, e.g. n = 3 and m = 14. It is easy to understand and can also be easily calculated based on the absolute number of new infections (further information on this topic can be found under Which Key figure for Which Purpose?, see also the corresponding articles in this blog.
The calculation of the key figures shown on this page is done based on publicly available data of the following sources:
European Centre for Disease Prevention and Control
Johns Hopkins University
We are aware that the absolute number of cases in different countries and regions and the key figures derived from them are only comparable to a limited extent due to a large number of factors, among others due to sometimes considerable differences in individual countries with regard to the following aspects:
population density
economic conditions
basic efficiency of the health care system
utilisation and possibly overburdening of the health system due to the coronavirus pandemic
scope of testing
access to free tests for the population
the way in which confirmed infections and deaths are counted
pandemic assessment by policy makers and communication
the date from which "social distancing" measures were decided on by the government and the extent of these measures
acceptance of measures for social distancing by the population
However, we believe that – taking into account the differences – a comparison of certain data and key figures is useful. In particular, it might be of interest to compare the indicators of countries that are comparable in terms of many of the factors mentioned above, but that have a different approach to social distance policies.